The carbonated collection
Circular motif in endless varieties, with white diamonds or multi-coloured stones, and rings that change to pendants. Discover Carats Jewellery's range of Carbonated dress rings, bracelets, necklaces, pendants, and earrings below.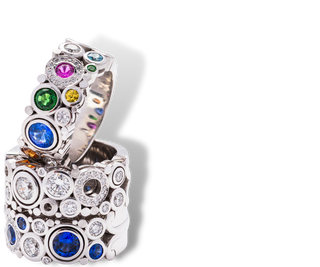 Behind the collection
Circular shapes can be found in almost every aspect of daily life, and is a reoccuring theme throughout the fabric of the universe.
From planets, our eyes, to being an instrumental part of transport, representation of the cycle of life and continuation; there is no doubt about the universal significance, and practical value that the circular shape brings to us.
The Carbonated Collection, like our other designer jewellery collections, is birthed from creative inspiration taken from nature, architecture and life all around us - and brought to fruition through countless hours of hand drawn, handcrafted mastery.