hand made mens wedding bands
We have a wide selection of mens wedding rings and wedding bands at Carats Jewellery. All of our rings are hand made here at our Vulcan Lane store in Auckland, and can be customised to suit taste and budget.
Our mens wedding bands come in a variety of precious metals and colours such as yellow gold, white gold, platinum, rose gold and zirconium. Wedding bands come in all sizes and styles, so if you'd like to take a closer look and have a chat with us feel free to pop in and have a look.
I am totally wrapped with my wedding & engagement rings - Phil took the time to listen and then customised the matching set exactly as we wanted. So pleased and would certainly recommend.
- Kylie
My husband had my bespoke ring designed here. They did an amazing job creating a welsh Koru design. A real one of a kind. We also had our wedding bands designed to match with our personalised motto engraved inside. Would recommend these guys any day! We can pop in and get our rings cleaned any time too
– Sheree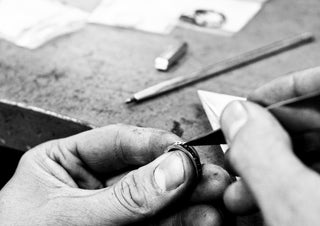 Grant is just an amazing person to deal with, not only did i get a beautiful ring from Carats jewellery, but when another jewellery shop told us they made mistake on my husbands ring two weeks from the wedding date. One email to Grant was all that was needed and he looked after us. I cannot be anymore grateful!! Highly recommended!!
– Karen